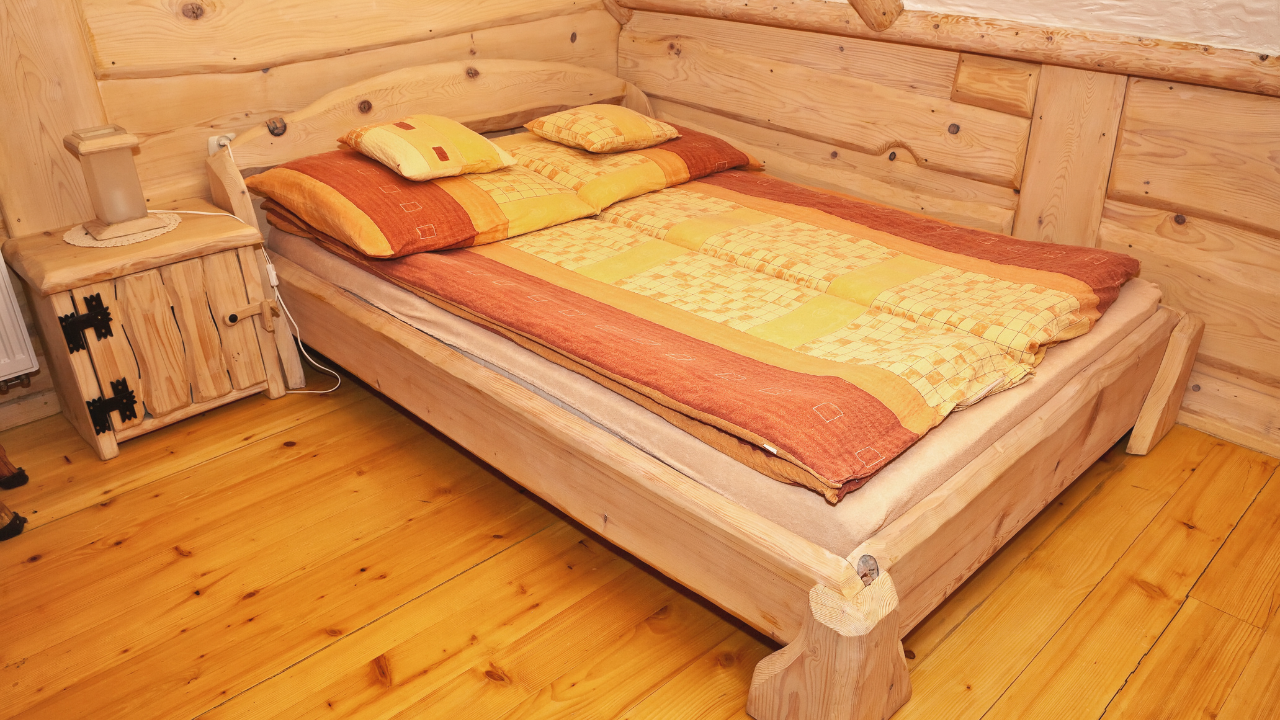 Rustic beds have been around for centuries. They have been designed to resemble rustic log cabins, cottages, or even farmhouses.
The rustic bed frame usually has a headboard and footboard made of logs, with the rest of the frame being made of wood. Sometimes they are decorated with rustic quilts, throws, and pillows.
These beds are often seen as being more comfortable than other types of beds because they are typically made with softer woods such as cedar or pine.
Generally, these bed frames are considered cheaper than other types of bed frames because the materials used to make them are not as expensive.
What is the Cost of a Rustic Bed frame?
They can be found for a wide range of prices. Unfinished wooden bed frames start at around $200, while more elaborate designs can cost upwards of $1000.
Beds size, Design, Materials, Craftsmanship, Brand, Warranty and Shipping, all of these factors combined can significantly affect the bed's pricing.
What is the Point of a Rustic Bed?
The rustic style of furniture is inspired by nature and the outdoors. It features simple, sturdy designs with an unrefined look. Most of them are made from natural wood, metal, and leather materials.
They are usually made from solid wood, such as pine or oak, and often left unfinished, with a natural finish that shows off the beauty of the wood grain. These beds typically have simple designs, without a lot of embellishments or frills.
Things to Consider Before Purchasing a Rustic Bed Frame
When shopping for a rustic bed frame, it is important to keep in mind the room's overall style where it will be placed. Rustic furniture works best in rooms with a rustic or country theme and can also be used in more modern homes, as long as they are paired with complementary furnishings.
When shopping online, it is important to read the descriptions carefully to ensure that the frame will work with the mattress size and type needed. It is also important to compare prices between different retailers before making a purchase.
7 Rustic Bed Frames Options Worth Consideration
The 7 selected rustic beds reviewed below are a good representation of what is available on the market today. These beds range in price from $150+ to $2000+ and offer a wide range of features.
This rustic bed frame is made from solid wood and manufactured wood. The natural wood grain color variation provides a rustic look. This platform bed has a lifted design, which makes it easy to clean underneath and allows better airflow.
It comes with a slat kit and center support legs, which means you don't have to go to the store to buy them. This bed is strong enough to hold up to 250 lbs for twin-size beds and it comes with an assembly guide and required tools.
It also comes with a five-year worry-free warranty. You don't need a Boxspring for this bed. The main downside is that it doesn't come with a headboard, although I have also found you a similar version with headboard
Pros
Simple Design – No Box-Spring Required
Easy to Carry and Assemble
Cost- Friendly-Loved by Thousands of People
Comes with 5 years of Worry-Free warranty
Cons
Can damage if not treated carefully
Need to Assemble Yourself
The rustic platform bed is a beautiful piece of furniture that will add style and sophistication to your bedroom. The headboard and frame are made from pine wood that has been finished with a rustic, distressed look.
Pinewood offers affordable furniture but compare to other wood it has less strength than other woods. It is always better to put recommended weight on the bed. The metal interior frame support also ensures that the bed is strong and reliable.
The wood slat support system provides even weight distribution and ensures a comfortable night's sleep. It is easy to assemble as it comes with the required tools and guide. Finally, 5 years of Worry-free limited warranty make it a sweet deal.
Pros
Cost Friendly
Reviewed over 4.5+ by thousands of People
5 Years of limited Warranty
No Box-Spring Required
Greyish-Brown Rustic Look
Cons
Need to Carry and Assemble Yourself.
The rustic bed frame is perfect to give your bedroom a rustic feel. It has bold metal borders and small, round grooved details that contrast beautifully with the wood-looking centers.
This will create the perfect modern farmhouse style statement in your bedroom while complementing your decor. It is made of durable high-grade MDF with metal having a powder-coated finish.
Its panel design structure requires box-spring to mount the mattress and it can hold up to 500 lbs of weight. Both vendor does not offer a Warranty for long period but they do have their 30 and 90 days of the return policy.
Pros
rustic design
made of durable materials
Includes headboard, footboard, and rails
Cons
Need to Carry and assemble yourself
does not include mattress or bedding
no warranty by any vendor except their return policy
Sturdy and stylish, the Vista stairway bunk bed is crafted of kiln-dried solid Brazilian pine wood with clean lines and a rustic finish. Kiln-dried is a process where wood is dried within an oven under a controlled environment to extract moisture, in order to make wood stronger and more beautiful.
The creative combination of storage boxes and stairs provides easy access to the top bunk and lots of space for clothes, toys, and others. Its wood is finished with Sherwin Williams products; high in quality and supplied all over the world.
This bed is ISTA 3A Certified; which means there is very little chance that your ordered bed might get damaged in transit. Comes with One Year of Warranty, this bed is perfect for kids or siblings.
Pros
Quality Finish and Sturdy Material
No Need for Box-Spring
Cost-Friendly
Plenty of Storage
Easy to Assemble
1 Year of Warranty
Cons
Need to Carry and Assemble yourself
The rustic Glacier Country Platform Bed is a unique and one-of-a-kind piece that's perfect for any bedroom. It features a low height footboard, standard height headboard, and sideboards that are both sleek and sturdy.
The bed can hold up to 550 lbs, making it ideal for both adults and children. The build, fit, and finish are all durable, so you can rest assured knowing that your bed will last for years to come.
Plus, there's no need for mattress support or box spring – the bed comes with everything you need for easy assembly. And best of all, it comes with a 20-year limited warranty. This bed is made in the USA from scratch.
Pros
Rustic and perfect for any bedroom
Low height footboard and standard height headboard
Sideboards are sleek and sturdy
Can hold up to 550 lbs
Easy assembly
Comes with a 20-year limited warranty
Cons
Need to Carry and Assemble Yourself
A little bit Pricey but definitely worth it
The Porter Queen Panel is a simple and classic-looking bed with beautiful details. You'll love how this bed frame looks in your room. It's perfect for people who love vintage-style furniture. The bed frame is made of wood and veneers, and it includes the headboard, footboard, and rails.
It is finished with quality craftsmanship. The footboard also has bun feet, which add a touch of elegance. As you can see, this bed has only three slats and requires a support mattress. You can either use Box-Spring(Safer Option) or Compatible Roll slats(Cheaper option).
According to Ashley Furniture's Warranty Guide; they provide 1 year of the limited warranty and labor coverage; which means the manufacturer will pay for the repair of a defective item. Although there is an exception for misuse or mistreatment.
Pros
Rustic and vintage style
Quality craftsmanship
1 year limited warranty and labor coverage
Cons
Only three slats require support underneath
Box-spring or extra roll slats are required to support the mattress
The Sante Fe bookcase captain's bed will add just a touch of rustic Southwestern touch to your bedroom. Along with sturdiness, this bed provides a lot of space for storage and panels to put stuff on.
The raised footboard copies the headboard design with its own set of slate squares and two doors that open to reveal a storage area for blankets and bedding. Some people also complained that sometimes these boxes are hard to open.
The top swings open to reveal hidden storage behind the slate squares. The compartments within the panels allow for easy access to books and other things.
Unfortunately, this bed is only available in both King and Queen size which comes with 1 year of limited warranty.
Pros
Rustic look and sturdy build
Plenty of storage
1 year of limited Warranty
No Box-Spring Required
Cons
Only available in queen size
Sometimes storage boxes can be hard to open
The Bottom line
All in all, these are all great rustic bed frames that will add some style and character to your bedroom. They're all made of high-quality materials and feature beautiful finishes. Most of them include a limited warranty, so you can be sure that you're getting a quality product.
The only downside is that they do require assembly, but it's not too difficult to do. If you're looking for a rustic bed frame, then any of these would be a great option.
Also Checkout our Topics On: